My Blog
Posts for tag: orthodontics
By Great Meadows Dental Group
March 10, 2019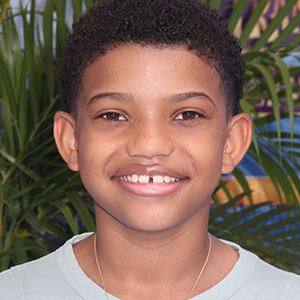 Sometimes it seems that appearances count for everything—especially in Hollywood. But just recently, Lonnie Chaviz, the 10-year-old actor who plays young Randall on the hit TV show This Is Us, delivered a powerful message about accepting differences in body image. And the whole issue was triggered by negative social media comments about his smile.
Lonnie has a noticeable diastema—that is, a gap between his two front teeth; this condition is commonly seen in children, but is less common in adults. There are plenty of celebrities who aren't bothered by the excess space between their front teeth, such as Michael Strahan, Lauren Hutton and Vanessa Paradis. However, there are also many people who choose to close the gap for cosmetic or functional reasons.
Unfortunately, Lonnie had been on the receiving end of unkind comments about the appearance of his smile. But instead of getting angry, the young actor posted a thoughtful reply via Instagram video, in which he said: "I could get my gap fixed. Braces can fix this, but like, can you fix your heart, though?"
Lonnie is raising an important point: Making fun of how someone looks shows a terrible lack of compassion. Besides, each person's smile is uniquely their own, and getting it "fixed" is a matter of personal choice. It's true that in most circumstances, if the gap between the front teeth doesn't shrink as you age and you decide you want to close it, orthodontic appliances like braces can do the job. Sometimes, a too-big gap can make it more difficult to eat and to pronounce some words. In other situations, it's simply a question of aesthetics—some like it; others would prefer to live without it.
There's a flip side to this issue as well. When teeth need to be replaced, many people opt to have their smile restored just the way it was, rather than in some "ideal" manner. That could mean that their dentures are specially fabricated with a space between the front teeth, or the crowns of their dental implants are spaced farther apart than they normally would be. For these folks, the "imperfection" is so much a part of their unique identity that changing it just seems wrong.
So if you're satisfied with the way your smile looks, all you need to do is keep up with daily brushing and flossing, and come in for regular checkups and cleanings to keep it healthy and bright. If you're unsatisfied, ask us how we could help make it better. And if you need tooth replacement, be sure to talk to us about all of your options—teeth that are regular and "Hollywood white;" teeth that are natural-looking, with minor variations in color and spacing; and teeth that look just like the smile you've always had.
Because when it comes to your smile, we couldn't agree more with what Lonnie Chaviz said at the end of his video: "Be who you want to be. Do what you want to do. Do you. Be you. Believe in yourself."
If you have questions about cosmetic dentistry, please contact our office or schedule a consultation. You can read more in the Dear Doctor magazine articles "Beautiful Smiles by Design" and "The Magic of Orthodontics."
By Great Meadows Dental Group
September 18, 2016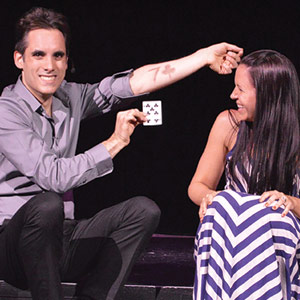 Magician Michael Grandinetti mystifies and astonishes audiences with his sleight of hand and mastery of illusion. But when he initially steps onto the stage, it's his smile that grabs the attention. "The first thing… that an audience notices is your smile; it's what really connects you as a person to them," Michael told an interviewer.
He attributes his audience-pleasing smile to several years of orthodontic treatment as a teenager to straighten misaligned teeth, plus a lifetime of good oral care. "I'm so thankful that I did it," he said about wearing orthodontic braces. "It was so beneficial. And… looking at the path I've chosen, it was life-changing."
Orthodontics — the dental subspecialty focused on treating malocclusions (literally "bad bites") — can indeed make life-changing improvements. Properly positioned teeth are integral to the aesthetics of any smile, and a smile that's pleasing to look at boosts confidence and self-esteem and makes a terrific first impression. Studies have even linked having an attractive smile with greater professional success.
There can also be functional benefits such as improved biting/chewing and speech, and reduced strain on jaw muscles and joints. Additionally, well-aligned teeth are easier to clean and less likely to trap food particles that can lead to decay.
The Science Behind the Magic
There are more options than ever for correcting bites, but all capitalize on the fact that teeth are suspended in individual jawbone sockets by elastic periodontal ligaments that enable them to move. Orthodontic appliances (commonly called braces or clear aligners) place light, controlled forces on teeth in a calculated fashion to move them into their new desired alignment.
The "gold standard" in orthodontic treatment remains the orthodontic band for posterior (back) teeth and the bonded bracket for front teeth. Thin, flexible wires threaded through the brackets create the light forces needed for repositioning. Traditionally the brackets have been made of metal, but for those concerned about the aesthetics, they can also be made out of a clear material. Lingual braces, which are bonded to the back of teeth instead of the front, are another less visible option. The most discrete appliance is the removable clear aligner, which consists of a progression of custom-made clear trays that reposition teeth incrementally.
How's that for a disappearing act?!
If you would like more information about orthodontic treatment please contact us or schedule an appointment for a consultation. You can also learn more about the subject by reading the Dear Doctor magazine article "The Magic of Orthodontics."
By Great Meadows Dental Group
September 13, 2016
Learn about the benefits of Invisalign from your Bedford dentist.
Would you like to straighten your teeth but hate the thought of giving up some of your favorite foods? When you choose the Invisalign
brace system, you can eat anything you want. Dr. Nicholas Papapetros, Dr. Leo Kharin and Dr. Jessica Ristuccia, your Bedord, MA dentists at Great Meadows Dental Group, explain how you can benefit from Invisalign.
Invisalign Doesn't Use Wires and Brackets
Traditional brace systems use a system of wires and bracket to reposition your teeth. Adjusting the wires every four to six weeks gradually moves the teeth into alignment. Although the system is an effective way to realign your teeth, you must wear the wires and brackets for the entire treatment period, which can be as long as two years or longer.
The Invisalign system doesn't use wires and brackets. Instead, you'll wear a series of removable aligner trays. Since the aligners are clear, no one may even notice that you are straightening your teeth. Every two weeks, you'll replace your trays with a new set.
Mealtime Is Easy with Invisalign
If you've ever eaten with a friend who has braces, you may have noticed that they may have had to pass up some foods. Hard foods, like carrots and apples, can break wires and must be cut up into small pieces, cooked or avoided if you wear traditional braces. There are no limitations with Invisalign. Since you'll remove your aligners when you eat, you can continue to enjoy all of your favorite foods. There's no need to give up popcorn, gum or other foods that can cause problems when your mouth is full of wires.
Invisalign Makes It Easy to Care for Your Teeth
Navigating wires and brackets requires extra effort. If you aren't careful, food can become stuck in your braces, which can increase your risk of developing a cavity. When you wear Invisalign aligner trays, you'll simply pop out your trays and floss and brush as usual.
It's never been easier to straighten your teeth, thanks to Invisalign. If you would like to find out if you're a good candidate for Invisalign, call Dr. Papapetros, Dr. Kharin and Dr. Ristuccia, your Bedford, MA dentists at Great Meadows Dental Group, at (781) 275-7707 to schedule an appointment. Improve your smile without giving up your favorite foods!